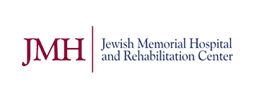 Mission
The mission of Jewish Memorial Hospital and Rehabilitation Center is to deliver quality rehabilitation and extended acute medical care in a manner both respectful and reflective of the diverse communities that we serve. Through high professional standards of rehabilitation and medicine, multidisciplinary teams ensure that patient's complex health care needs are addressed. Jewish Memorial Hospital and Rehabilitation Center strives for continuous quality improvement by supporting and developing services and programs sensitive to the diverse needs of patients, families and the community.
Jewish Memorial Hospital and Rehabilitation Center offers a structured program that includes:
Individual assessment and medical treatment to help patients recover from an acute episode of injury.
Rehabilitation by registered physical, occupational and speech therapists supervised by a physiatrist.
Specialized exercise equipment designed to increase mobility in a safe environment.
Recreation therapy to productively use leisure time in a manner, which contributes to well being.
Appropriate consultation from other hospital specialists for additional medical and behavior complications.
Comprehensive case management, discharge planning after care planning.