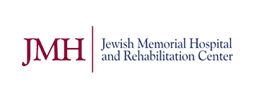 Medically Complex Rehabilitation
Jewish Memorial Hospital and Rehabilitation Center is known for its expertise in treating medically complex adults. As a result, our Acute Inpatient Rehabilitation Program provides quality rehabilitative services utilizing a multidisciplinary team approach. The main focus of the program is to maximize a patient's independence in daily activities and his or her optimal level of functioning with the primary goal of successfully returning the patient to the community.
The rehabilitation team consists of physiatrists, MD's specializing in rehabilitation; registered nurses; speech therapists; occupational therapists; physical therapists; individuals specializing in prosthetic and orthotic devices, dieticians and social workers.
We offer a structured program that includes:
Individualized assessment and medical treatment to help patients recover from acute episodes of injury
Specialized exercise equipment designed to increase mobility in a safe, comfortable environment
Recreation therapy to productively use leisure time in a manner which contributes to well being
Comprehensive case management, discharge planning and after care planning
Patients who will benefit from this program include individuals with the following needs:
Debilitation after prolonged illness with general deconditioning
Rehabilitation needs following orthopedic surgeries/injuries (hip fractures, joint replacements)
Acute onset of neurological changes such as strokes
Amputations requiring prosthetic and orthotic and gait training services
Degenerative changes associated with neurological or other disease states (e.g. Huntington's, Chorea, ALS, and MS)